A Kleerly successful start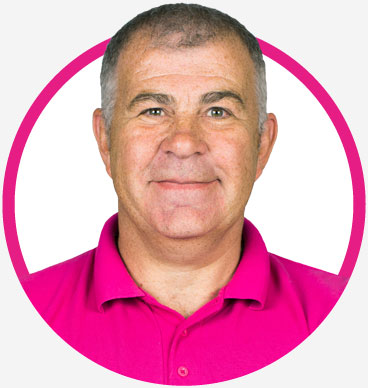 John has been a franchisee with Optic-Kleer since 2011. He operates his franchise in Suffolk in and around the areas of Newmarket, Bury St Edmunds, Diss and Thetford.
Before joining Optic-Kleer, John worked in retail for many years.
How did you hear about Optic-Kleer?
Through my brother-in-law actually, he had his windscreen repaired, by a technician down in Dorset. He told me about it and I thought it was a great opportunity and we should look into it, so we did.
What was your next steps?
The next steps we took were to have a meeting with the director, David Overton. We had a couple of meetings with him and moved things forward quite quickly.
How did you find the transition from leaving your old job?
Because I was in a position where I wasn't very happy what I was doing, the transition to Optic-Kleer was great for me because it was the opportunity I needed at the right time and it just fell perfect for me.
What was training like?
The training was really well setup. We were given accommodation the night before and arrived nice and fresh on the Monday morning. The initial day of training was quite relaxed. It was enjoyable and it was exciting because it was something new. I was really impressed and enjoying it. We learnt an awful lot. We learnt about the kit and the industry. David was very helpful and knowledgeable because he had been there and done it himself. So it was a very enjoyable experience.
Did talking to David help?
David Overton was great, because he started as a franchisee himself, worked his way up to operations manager, and then has obviously become director and now owns the company. His knowledge was invaluable in letting us know how things work. Becoming a franchisee was a real buzz for me, because I always wanted to own my own business. Becoming a franchisee would give me the opportunity to run my own business, and that is very much the way I looked at it. Although I have the safety of the umbrella of an organisation, I felt like I was about to embark on my own business, which was fantastic.
How did you feel when you had your first customer?
Obviously your first customer is a bit nerve wracking, but I was confident in using the equipment and quite able to do the repairs. Because I had the support of David with me on the first day, that too was invaluable. He put me at my ease and we went through the process, everything I was taught in the training room, and everything just went from there. We had a very successful day, I think we did 10 repairs on my first day, which was wonderful.
Do you need any qualifications?
I don't really see that you have to have a degree or anything like that, you just need to be able to talk to people. You need to be self-motivated because it's your own business, so you need to get out to work every day. A bit of customer service obviously goes a long way and you have to speak to people in the right way to be able to sell a little bit and negotiate a little bit, because there are certain circumstances where you do have to promote yourself to the customer. You just have to get out there every day and you will earn some good money.
Did you have to do any advertising?
The great thing about this business is that once you're set up with the marketing materials provided with the franchise, you really do attract a lot of customers and you don't have the hard sell at all. And I found that great. People will come straight up to me and enquire and the business is there to be had. You don't really have to promote yourself in that sort of way, you don't have to really push for a sale. The marketing is great and people do come over to you.
Do you get much support from Optic-Kleer?
The girls in the office are unbelievable. They sort absolutely everything out for you, they are always available on the telephone, if you have got any queries. And the way they process all the guys' transactions, I don't know how they do it. It's very efficient and they have never let me down in terms of any admin errors or anything.
Is it rewarding?
I have been running my franchise now for 5 years. The one thing I've become very passionate about is the fact that we can achieve a high standard of repair. It is so good, the customers don't really need to have their windscreen replaced. The standard of repair we can achieve now is excellent. And that's what I'm really passionate about. Customers are coming to me and perhaps they have had another opinion that they need a new windscreen, and I've turned round and fixed it and they can't see it. It gives you a real buzz and the customer goes away so happy that you have fixed their screen and they thought they were looking at a rather large excess for a replacement windscreen.
Are you still excited, 5 years in?
Five years in and I'm enjoying it as much as ever, probably even more encouraged that my business is going to grow further and I'm looking forward to the next five years.
Do you have a good network of Optic-Kleer Franchisee's around you?
I have always made a point of speaking to the local guys in other franchises in the area so we can share best practice, we can bounce ideas off each other and just generally support each other. I feel that Optic-Kleer is a good grounding for that, it sort of lends itself to a good camaraderie and we can promote business and learn off each other and do well individually.
Is it important to be a member of the BFA?
To be honest before I bought my franchise I didn't really know a lot about it, but as soon as I heard about the British Franchise Association, it did give me piece of mind that we were backed by them.
Do you hold much stock?
The brilliant thing about our operation in terms of doing repairs and the stock and consumables involved in repairing windscreens, is fantastic because it is a minimal amount of stock that we use. The stock is available so quickly, it gets shipped the very next day that we need it. It's a fraction of the cost of the actual repair so the overheads are really really low.
What do you think to the Optic-Kleer management fee?
The management fees are extremely competitively good. For what the office does in terms of administering all the invoices that we send in and the consumables that we receive, it's just incredible really that the costs are so low. For every repair we do it is well worth the management fee. The girls in the office will process all of the invoices and get them sent off. Any queries they all sort out, it's all done for me. At the end of each month we simply get a statement, to tell us the situation, which insurance companies have paid and which are outstanding. It's very simple.
What is it like, day-to-day?
Although each day is essentially getting up and going to fix customers windscreens, it can be quite different, because you meet different people, all sorts of different characters. I enjoy speaking to people so it is never a chore. The process of fixing the windscreen becomes secondary because you actually speak to and sell to people a little bit. To get people to get involved with your business and to agree to have their windscreen fixed by you because of what you said and way you are, is great. It gives you a buzz. And on the back of that you are earning a living which is what we are all in it for.
Are you excited about the future?
Since David took over the business it has gone from strength to strength. The software systems that we are looking at implementing now and just the way the business is moving forward is very exciting. And I am really really encouraged about the future.